Everything you need to know about corporate communication
On 31 August, 2022
14 min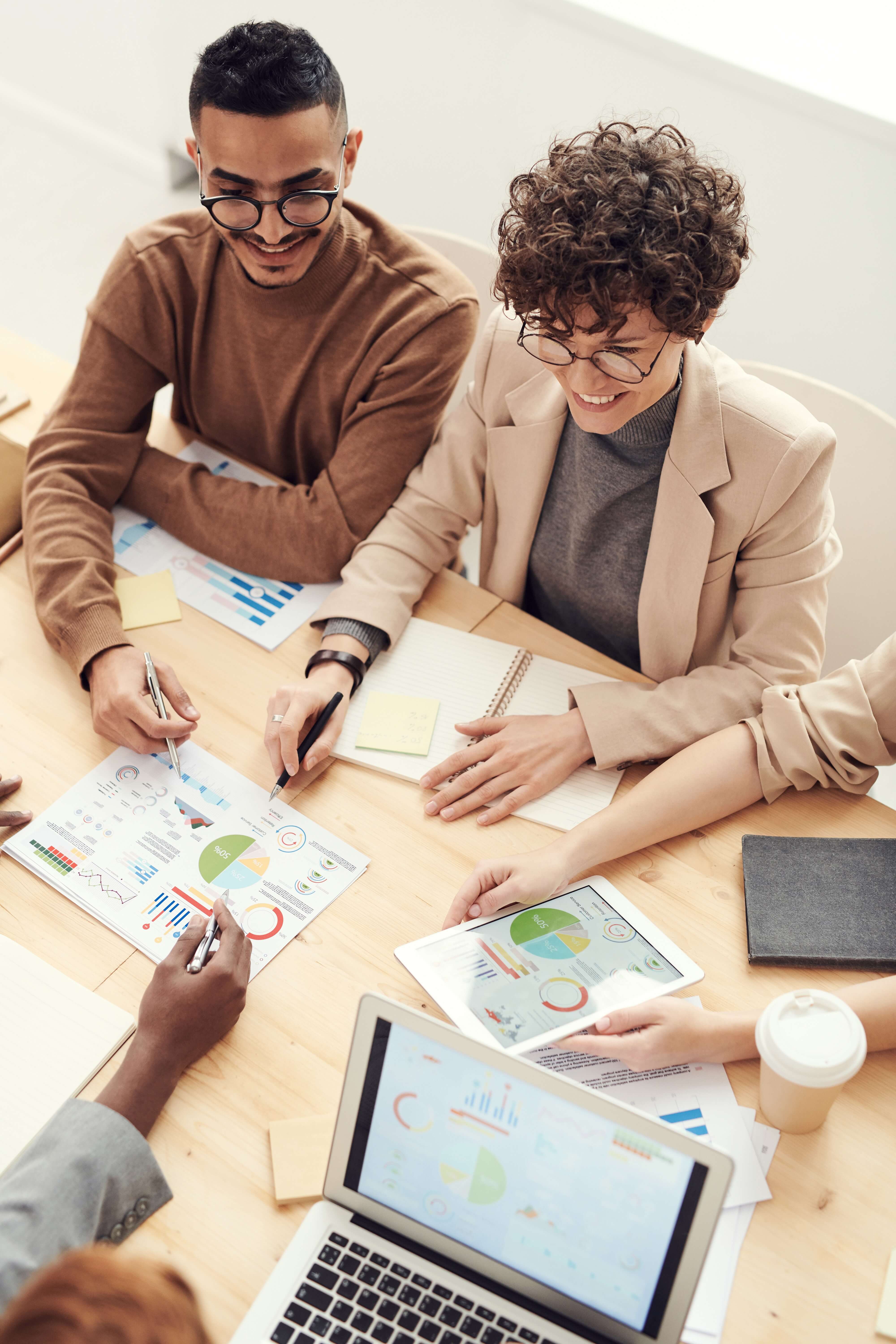 Corporate communication is both internal and external communication within a workplace. There are several different kinds of corporate communication dimensions that are a key concern for any company. Not only do corporate communications help maintain brand image and reputation, but they are also important to maintain employee happiness and wellbeing. Teams are put in place to communicate to both internal and external audiences and form an alliance between management and employees. Corporate communication is important as it can form an alliance between management and employees but also portray a strong brand identity to the public. It helps a company to survive and thrive in the marketplace.
What is internal corporate communication?
Internal communication only happens within a company. It can be both formal and informal. It includes communications within all levels of a company, whether it is for senior management or interns or for both. The way in which an enterprise engages leadership and motivates employees to build relationships, provide solutions and achieve business objectives through internal strategies is all a part of a corporate internal communication strategy. Read on to discover some of the different styles of internal corporate communication within a company.
Leadership Focused
This is how information is communicated from the top to the bottom of the business chain. It is also sometimes referred to as "downward" communication. This type of internal corporate communication is at the heart of any company. By focusing on informing staff, company updates, progress reports and formal announcements, leadership communication maintains a strong and healthy working environment.
Employee Focused
Employee-focused internal communication will have an immediate impact on internal engagement levels. It is the simplest way for higher management to show appreciation and give recognition to their staff. Recognizing a team for their work or acknowledging an individual for an accomplishment can go a long way. Furthermore, it is important for employees to stay engaged. Memos sent to front management, meetings between different departments, team chat on Microsoft Teams or on Slack and company announcements are all great ways of communicating internally with employees. All employees should be recognized for their hard work and their commitment to the company. Whether it is celebrating a personal achievement, or even someone's birthday, a great company will make its employees feel seen and heard.
Face-to-Face
Yes, sending an email can be fast, efficient and have its advantages but there is nothing more personal and meaningful than having a face-to-face conversation with an employee or colleague. This can be done through weekly one-to-ones with colleagues or team members or a coffee outside of the office. It is much more personal and thoughtful than a direct email or video call.
Change Communication
If there is a significant change within a company, then instead of letting your employees whisper about what's going on, inform them! Let them know if someone is leaving or if someone new is being put in charge. It is extremely important for employees to be aware of what's going on and to be able to trust their company. It is also important to celebrate promotions and welcome new employees. This lets them feel at ease right from the get-go.
What is external corporate communication?
External communication is the image a company represents to the public. It can be information exchanged not just to the consumer but also between businesses, clients, and government officials, which can either be formal or informal. Companies need external communication to achieve their goals to create and maintain a strong brand image and identity.
Formal Business communication
This entails various elements involved in maintaining a good corporate image. Letters, memos, business reports and presentations are some of the different methods used. The aim of this style of external communication is to reveal the quality of work produced to an external audience.
Paid Advertising Communications
External advertising is how businesses and companies make the public aware of their products and services. It is usually made up of a specific advertising campaign that will appear in various advertisements throughout a variety of media. Print publications allow companies to buy advertising space which can be anything from a quarter to a full page depending on the brand's budget. The internet is another form of paid advertising. The most common form of advertising on the internet is paying for banners to pop up on websites with the company's latest news or product. Elsewhere, external communication via paid advertisements can be found on billboards, posters, subway and bus stations and on television.
Earned Communications
Earned media or earned content is any content written or advertised about your company that has not been paid for. It has been organically produced. Although the content has been written by an external party, a company can position themselves in a way to make sure they are being talked about for free. Consumers are greatly influenced by what they read and see online. As social media and digital technology are evolving at a rapid rate, earned communications will only grow alongside it. Earned media is a super effective way for brands and businesses to gain organic and positive press.
Social Media
Social media is one of the more recent forms of external corporate communication. Platforms such as LinkedIn, Facebook, Twitter and Instagram are some of the more popular platforms that can benefit companies when communicating externally. Social media is a fantastic way for companies to share their information quickly to a large audience. It is also cost-effective as most social platforms are free to join.
Press Release
A press release is one of the most traditional forms of external corporate communication but to this day it remains to play a vital role in brand communications. A press release is an official written statement by a company. It is written by public relations professionals who know how to write a compelling story and get to the point. The goal is to spark interest from journalists so that the specific product or service being discussed in the press release gains traction and interest from the masses. Press releases are mostly used to communicate a new product or exciting news to the public. Read this article to know how to write a good corporate press release.
Events
Events are a great way to showcase a product or service. Not only can an event create a loyal customer consumer base, but they also give companies the chance to interact one-to-one with their consumers. This allows direct customer feedback and the opportunity to showcase not only a product or service but the company's employees working at the event. External events can come in all shapes and sizes, from large-scale concerts to intimate dinners or charity events.
What makes corporate communication successful?
There are many ways in which a company can ensure that its corporate communications are successful. The main goal of any form of corporate communication is to create a positive image. Discover a few elements that can build a company's reputation!
Brand Awareness
A corporate communications team is put in place to ensure that a company's brand remains reliable and trustworthy. In a society where people do not like to be persuaded by paid advertisements, corporate communication strategies are a fantastic way to make sure a company's consumers are being informed in the correct way. Brand awareness and identity are essential elements of any business. Although paid advertising can have its advantages, today the younger generations are not so easily convinced as they do not want to be persuaded by what they know has been paid for. Instead, they prefer to be educated and make their own buying decisions. Paid advertising alone is not enough to create brand awareness. Brand awareness can be achieved in various ways such as organic or earned advertising and word of mouth. If employees of a company are happy where they work and with what the company is promoting, then often they will repost on social media platforms such as LinkedIn or Facebook. For young consumers, this is a much more viable way to believe in a product or service. Corporate communications are a sure way to make sure the brand is seen in a positive light.
Credibility
Credibility is of the utmost importance. PR teams are used to ensure the credibility of a brand. Companies need to remain credible to uphold a spectacular brand reputation. To ensure all company communications are factual, there are several digital technologies and tools that can be used. One is Wiztrust which allows companies to certify their corporate information on the blockchain and check its authenticity. It is a great tool to ensure the success of a company. Credibility can determine the success of a corporate communication strategy as it helps to influence consumers' behaviour patterns and thoughts. If a company is not credible, consumers will not believe the message that is being shared and will not invest.
Harvesting talent
Companies are only as successful as the employees who work for them. Talented employees deliver great results. Effective corporate communication is key to convincing new and hardworking talents to join a company.
Engagement
Internal communication is key to making sure a company runs smoothly and that its employees are happy. The success of any company is thanks to its employees. Boosting employee engagement via corporate communication and satisfaction will ensure employees remain motivated, efficient, and productive in the workplace. Externally, connecting with
consumers and the general public are crucial to any business. Consumers who are engaged with a company will only further its success.
Track your communication performance
Knowing and tracking your communication metrics is vital to success. There is a significant amount of value within any communications strategy, and it is important that this is known so improvements can be made. Simply having a corporate communication strategy is not enough, it is essential to measure and realise the key performance indicators both internally and externally. Corporate video views, page visits and logins and employee feedback are just a few ways to keep track of how successful a corporate communication strategy can be. Web analytics and email click rates can also be used to manage external corporate communication. These tools can offer important insight into both employee and consumer behaviour.
What are the different kinds of corporate communication?
Corporate communication allows businesses to communicate with both internal and external audiences, however, there are several different players to be considered depending on the audience that needs to be reached. Read on to discover the different kinds of corporate communication.
Companies need to promote their business to a specific audience. To do this, a public relations team should be put in place to develop and sustain consumer loyalty, brand awareness and a great reputation in the public eye. The public relations team can manage how information is communicated both internally and externally. They are the team that deals with drafting corporate communications to the public. Public relations help to control the image of the brand.
Customer Communication and Marketing
Businesses invest a lot of time and money in communicating their message to consumers. Customer communication is key to making sure this message hits the right audience. In modern business, there are many channels for businesses to communicate with customers. Advertisements we see on social media, billboards, emails in our inbox, advertisements on YouTube, or even text messages, are all part of a customer communication and marketing strategy. Content can be shared with pretty much everyone, anywhere making it the job of the customer communication and marketing team to deliver it to the right people through the right channels. Having a great strategy for this aspect of corporate communications will allow a company to be nurtured, protected, and most importantly grow into the future.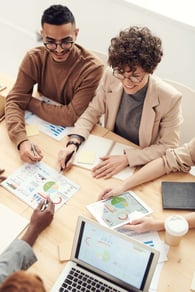 What are the benefits of corporate communication?
A well-structured and sustainable corporate communication strategy can provide benefits in both the long and the short term.
No more miscommunication
One of the biggest benefits of maintaining a great internal and external corporate communication strategy is that it can benefit brands in terms of crisis. Communication plays a critical role in crisis management. A crisis can escalate quickly which is why having great corporate communication plans already in place is a must. It also avoids miscommunications between managers and employees. Internal corporate communication focuses on the insides of the company to make sure everyone is on the same page and no misunderstandings are had.
Customer Relations
You cannot run a business without customers which makes them a top priority for any company. A customer's needs should always be carefully considered. Employees need to communicate well and be fully informed to solve problems and maximize customer satisfaction. Corporate communication helps to solidify the relationship between brand and consumer.
Brilliant Brand Awareness
The goal of communications is to allow your brand to be seen and heard. This ultimately determines whether a brand will fail or succeed. Corporate communications are used to inform and educate the consumer on a particular brand or product. A clear strategy in both internal and external communication will allow a business to tell their store and share their values.
Transparency
A good corporate communication strategy will improve the transparency of a company. It is important for companies to be transparent so that they can gain employee trust and loyalty. If employees are satisfied and trust the company they are working for, they will be more motivated to succeed which evidently could lead to higher revenue. The same goes for consumers. If a company is transparent with its consumers, it will gain more customers and customer loyalty.
Establishing Expertise
Corporate communication is an effective method to train and nurture talent and turn them into experts in their field. Implementing employee training programs or extracurricular cultural activities, not only improves employee well-being but also their knowledge and motivation to learn and develop within a company. Adding to this, corporate communication is also a great way to show off the expertise of a company. Showcasing established experience inside a company can prove its worth and value. It adds a level of trust for both employees and consumers, as they can see exactly who is running the show and what they have done previously to get there. To do this, companies can post about new hires and employees through social media or on company websites.
Innovation
One of the goals of corporate communication is to share knowledge and experience.
A great corporate communication strategy can lead to better and improved collaborations, both internally and externally. It can also create a culture of innovation within the workplace, helping employees to stay motivated and inspired to produce new business ideas and grow within the company.
Innovation should be at the forefront of any business. Without new ideas, knowledge and collaborations, a company will fail to grow and may struggle alongside the competition.